Clergy
Reverend Fran Kovar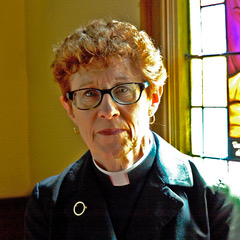 The Rev Fran Kovar arrived on May 1, 2018 to begin her ministry as Interim-Priest-in-Charge.
I have discovered a loving fellowship in each of the congregations and been made to feel very welcome.
As you see by the changing web banner we are active in serving the community both within the Parish and in the wider communities of Fenelon Falls and Coboconk.
Although there has been a change in priest, God is with us, around us, and working through us. The work of ministry continues.
Email: fenelonanglican@i-zoom.net
James Merrett, Honorary Assistant
James completed elementary school and high school in Fenelon Falls, then went off to U of T for an arts degree. He then went on to Trinity College and with ordination by the diocese of Toronto in 1973 and '74.
After enjoying fifteen years of ministry in the diocese at St. Simon-the-Apostle, St. Peter's, Oshawa, Church of Our Saviour, Don Mills and raising the Church of the Holy Spirit in Mississauga he was appointed Dean of Quebec and rector of the Cathedral of the Holy Trinity and served there for ten years. During this period James was elected to the Council of General Synod and subsequently to the Charter Board of Directors of PWRDF, and also the Canadian partner to the Executive Council of the Episcopal Church of the USA.
In 1998 he took up the appointment of Dean of Qu'Appelle and rector of Saint Paul's Cathedral, where he served until retirement in 2011.  He then came home to live on Shadow Lake in Coboconk.
In 2014, St. John's Peterborough came open and he spent a year with the people of the parish in their interim ministry.
The Rev. Susan Tate, Honorary Assistant
Rev. Susan is a graduate of Wycliffe College and former incumbent of the Parish. She happily serves as an honorary assistant at St. James Fenelon Falls. Susan provides pastoral care and offers annointing and healing prayer during worship on a regular basis.
She and her husband, Barry, reside in the village of Fenelon Falls. In addition to serving here, Susan was incumbent in the Parish of Woodbridge. She and her husband are active in Lion's International. They enjoy spending time at their cottage on Lake Simcoe during the summer and are proud parents and grandparents.