St. James Fenelon Falls
Flood prevention and the tale of two roofs
Parishioners are taking a promise to provide a roof over the head of our anticipated new priest quite literally. With help from the Diocese, and the workmanship of John Mulligan Roofing, the parish rectory adjacent to St. James was given a new roof in early October.
We are very grateful for the grant from the Mabel A. Carleton Fund, which assists specifically with rectory repairs. "Bishop Ryscilla and Wendy Pearson at the diocese helped us very much with the application," says St. James Warden, Jane Handley.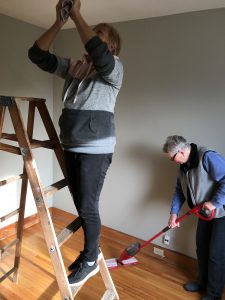 Nor has the inside of the rectory been forgotten. Here Glenna Stephenson and Gayle McAndrews are sprucing things up from floor to ceiling.
Special thanks also go out to John Mulligan Roofing, for going the extra mile and fixing the leaky, steep roof of St James. It had been leaking since September 13, leaving giant puddles in the sanctuary (just in time for reopening!), after some shingles blew off in high winds. John's company replaced the shingles as a courtesy.